Welcome to The Banana House
Relax below mangos, fig trees and bananas in a luxury private paradise.
Discover The Banana House between the stunning mountains and thousands of banana trees of the beautiful Fajã do Mar, where the mountains meet the sea.
Our awarded design house offers you peace, privacy, relaxation, and laidback luxury comfort.
banana-house-rooms-couple-view-madeira
banana-house-rooms-kingsize-bed-madeira
banana-house-rooms-double-beds-madeira
The rooms
We offer two bedrooms, a king bed and two single beds. Both rooms have access to the garden, where you can find mango and fig trees. During harvest season, pick a fresh mango or fig directly from the tree!

Enjoy the comfortable mattress, cozy pillows and quality linens from our high-class portuguese 5-star hotel supplier. We want you to sleep as well as you do at home. Or even better.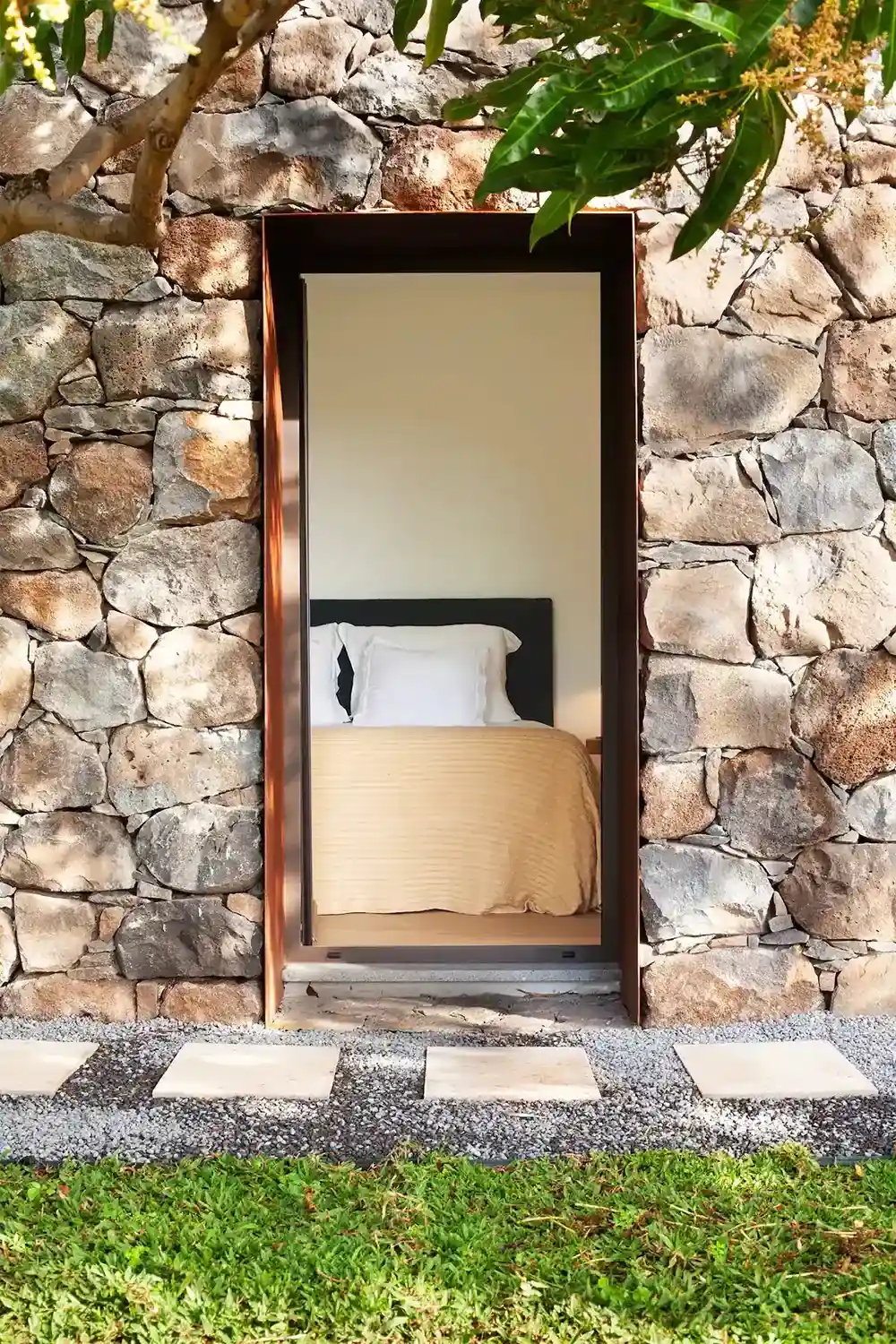 The pool
Refresh yourself in our private skin-friendly saltwater pool. With a length of seven by three and a half meters, just enough space for a nice swim. Enjoy the sun, do some Yoga on the pool terrace or lose yourself on the cozy sunbed.
banana-house-pool-sunbed-madeira-tablet
banana-house-pool-chairs-madeira-tablet
banana-house-pool-stairs-madeira-tablet
banana-house-pool-yellow-side-table-madeira-tablet
Amenities
Be the Chef in a fully equipped indoor kitchen, with sharp Zwilling knives, Vista Alegre cutlery, a juicer, an egg boiler, a toaster, a water cooker, Nespresso + Aero Press coffee machines, an oven and more – for your cooking pleasure. Grab fresh fish, meat, fruits and vegetables from the market and enjoy all the great ingredients Madeira has to offer.
banana-house-amenities-kitchen-madeira-tablet
banana-house-amenities-kitchen
banana-house-amenities-sideboard-madeira-tablet
banana-house-amenities-entrance-madeira-tablet
BBQ Area
The original Weber barbecue is waiting for you. With an average of twenty degrees celsius even in winter, you can enjoy barbecue all year round. Experience the west side terrace of the house with a stunning view of the Banana plantations and the ocean with perfect sundowners.
banana-house-bbq-outside-seating-sunset-madeira
banana-house-weber-barbecue-sunset-madeira
banana-house-usm-desk-work-remote-tablet
banana-house-relax-work-remote
Work and travel laid-back
Experience work and travel the easy way. With an amazing ocean-view you can be creative on the yellow USM desk with high-speed internet up to 500/100Mbps (Download/Upload).